by Alessio Iannicelli15 October 2020 in Environment, Life, Prototypes 
Kristin Tapping – a student of industrial design at London South Bank University – has created a bicycle wheel with a filter to purify the air.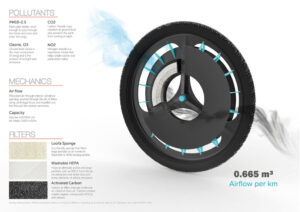 Is there a more ecological vehicle than a bicycle? Yes, a bicycle that "purifies" the air! It sounds absurd but it's all true. Kristin Tapping – an industrial design student at London South Bank University – has created a bicycle wheel with a filter inside to purify the air. The project is called Rolloe and won the prestigious "Design Innovation in Plastics 2020" award. The idea behind it is simple but at the same time (potentially) ingenious. The wheel measures 600x600x60 mm and weighs just over a kilo. Inside, there is a filtering system consisting of three sponges. The first retains large particles, the second blocks pollen and dust while the third (with active carbon) traps gas molecules. In this way, the filter also removes volatile organic compounds. The filters can be dismantled, washed and reused. Kristin recommends replacing them once a week or after 250 kilometres.
Read also → Designed for cycling with ABS
The bicycle wheel that purifies the air
When the bike is in motion, air enters the wheel through a circular opening, passes through the filter and comes out purified. To facilitate the passage of air, there are also aerodynamic external fins. Kristin Tapping had the idea for Rolloe as she cycled through the streets of London. "I could see and smell the pollution from the tyres and exhaust pipes. I thought: why not use the movement of the vehicles to filter the air?". The name Rolloe stands for Roll Off Emissions because it could have a strong environmental impact. According to a study conducted by the Design Innovation in Plastics 2020 commission, if 10% of London's bicycles were equipped with this special wheel, about 266,865 m³ of air could be filtered every day. This value could double if bicycles were also equipped with Rolloe for the rear wheel.